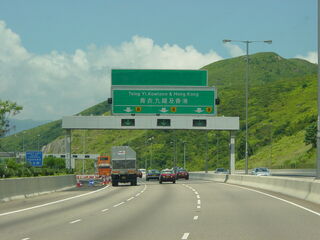 Route 8
(8 號幹綫) in
Hong Kong
connects
Lantau
island and Chek Lap Kok airport through to
Tsing Yi
, where it links with
Route 3
, bound for central Hong Kong Island and the
New Territories
.
It takes the form of an expressway immediately after leaving Hong Kong Airport. It also forms the North Lantau Highway.
The section from Lantau to Tsing Yi is made up of the existing North Lantau Highway and Lantau Link, which was opened in 1997.
The next section between Tsing Yi and Cheung Sha Wan, formerly known as Route 9, will be a 7.6 km dual 3-lane highway. This section consists of the Stonecutters Bridge, which will span the Rambler Channel from Stonecutters Island and link with the Tsing Ma Bridge through the Nam Wan Tunnel and West Tsing Yi viaduct. This section is due to be completed by 2008.
The remaining section links Cheung Sha Wan and Sha Tin. It was formerly known as Route 16 and will be composed of the Eagle's Nest Tunnel and Sha Tin Heights Tunnel. The length of the section is 6 km and construction works will be completed in 2007.
Route and Exits
Edit
Chek Lap Kok → Tsing Yi
Edit
Tsing Yi → Chek Lap Kok
Edit
Sources and References
Edit