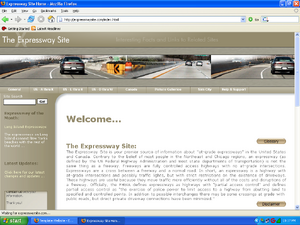 The Expressway Site is a website that documents at-grade expressways throughout all the 50 states of the United States and Canada. This site is dedicated to roadfans and people sometimes contribute new information about expressways.
The website is maintained by Eric Smith and Lou Corsaro.
External links
Edit
Ad blocker interference detected!
Wikia is a free-to-use site that makes money from advertising. We have a modified experience for viewers using ad blockers

Wikia is not accessible if you've made further modifications. Remove the custom ad blocker rule(s) and the page will load as expected.